London is the biggest and most important city in England and also a really popular destination for city trips. After visiting this city several times myself, I thought it could be fun to make a list of 9 free activities in London. Each activity on this list doesn't cost any money so you can do as many of these activities as you want to make sure you have the best city trip ever.
Harrods
Tube station: Knightsbridge Station
Harrods is one of the most famous department stores in the world and is located on Brompton Road. It's the biggest department store in Europe with a total sales area of around 90 000 m², spread over 7 different floors. Since 2012, there is even a whole floor filled with toys. This floor is called 'Harrods Toy Kingdom' and is quite impressive; both for children and adults.
Every year, 15 million people visit Harrods because it's such a unique experience. If you want to visit this store as well, make sure you are not wearing sportswear because you cannot enter the store if this is the case.
Harrods is a luxury store so it's a fun experience to walk through the store and see all the exclusive items. The goods that are sold are impressive, but the building itself is at least equally impressive. You really need to check out the Egyptian staircase when you go to a different floor. Every Christmas, the building is beautifully decorated with many Christmas lights.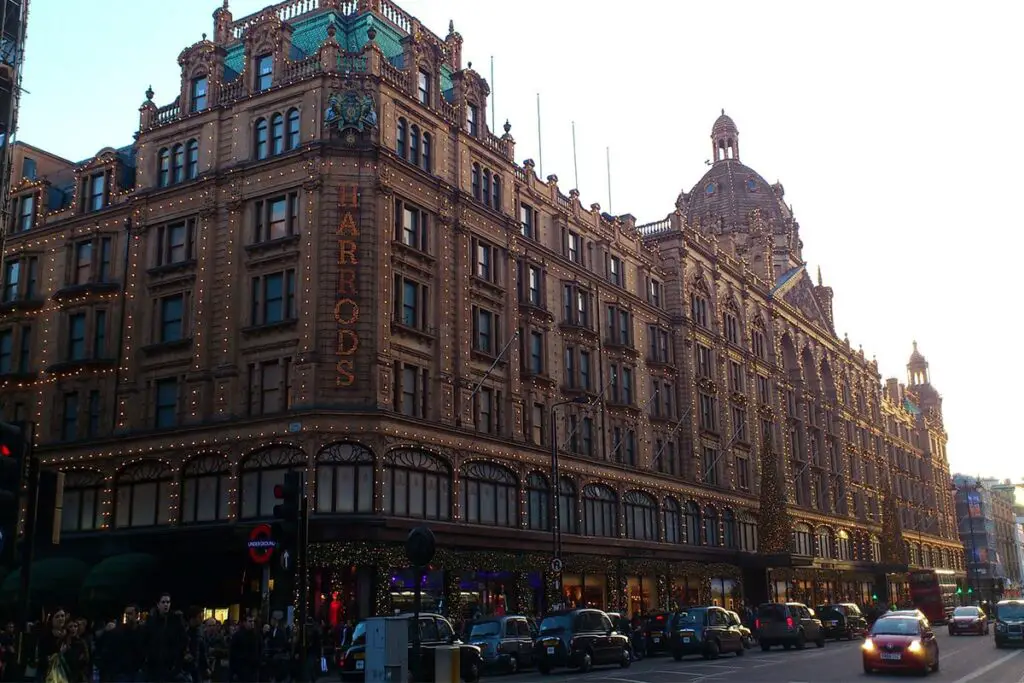 This is the iconic building with it's typical lights around Christmas.
More information: https://www.harrods.com
Buckingham Palace
Tube station: Hyde Park Corner, St. James's Park
If you are in London, you really need to visit Buckingham Palace. It's located next to St James's Park and Constitution Hill and has been the official home of the British monarch since 1837. Today, this is the home of Queen Elisabeth II. There are 775 rooms in total and 78 of those rooms are bathrooms!
I told you that this is something you really need to check out, but that's about everything you can do. You can look at and admire Buckingham Palace from a distance. That's it! Still, it's something you need so see when you're in London.
It's possible to go inside, but this isn't free. You need to book a tour and follow a tour guide who guides you through a number of rooms in the palace. The cheapest option costs £26.50.
If you visit Buckingham Palace at around 11:15 am, you can see the Changing of the Guard. Keep in mind that this ceremony is not performed every day. The guards hand over the responsibility of guarding the palace to the new guard.
More information: https://www.rct.uk/visit/the-state-rooms-buckingham-palace
More information about Changing of the Guard: https://changing-guard.com/
Piccadilly Circus
Tube station: Piccadilly Circus Station
Piccadilly Circus is one of the most famous hotspots in London and is known everywhere in the world because of its massive neon signs. Originally, it was built to connect Regent Street to Piccadilly. It's an important and very busy traffic junction because it has a perfect location and is easily accessible from all directions. Many people choose to meet here because many other landmarks are close by.
The neon signs are not the only thing worth seeing at Piccadilly Circus. You also have a statue and fountain of Eros, there are many restaurants and traditional English pubs. It's a very busy place to go out and party.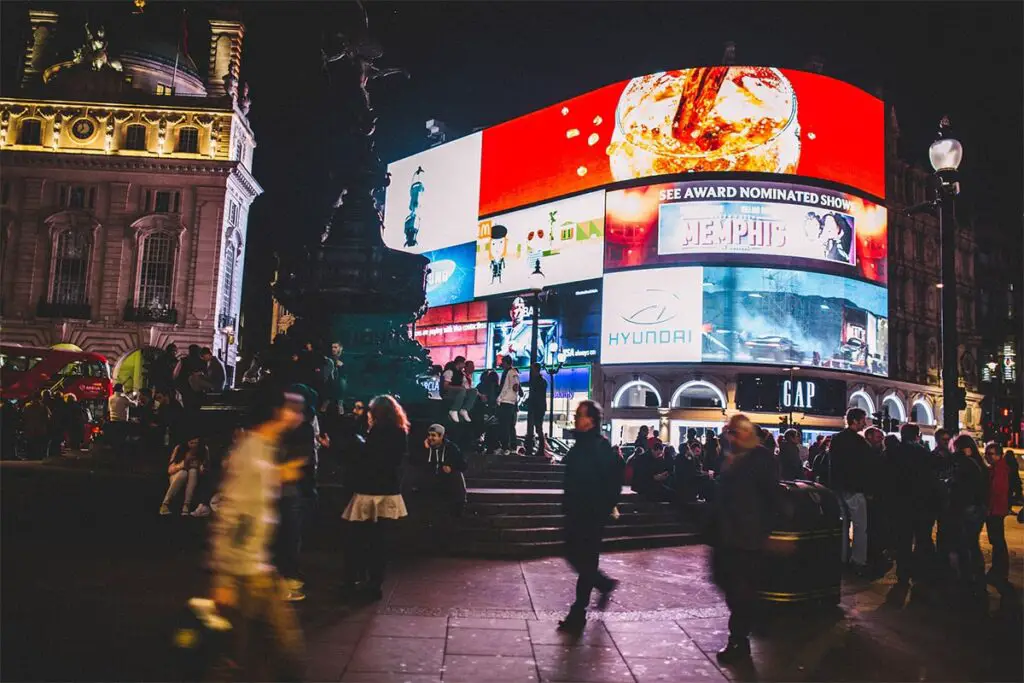 This is Piccadilly Circus at Night with its famous neon signs.
Oxford Street
Tube station: Oxford Circus Underground Station
This is the perfect street in London if you like shopping. It's the busiest shopping street in Europe with around 500 000 shoppers each day! You have around 300 different stores and the only traffic you'll see consists of busses and taxis. In theory, Oxford Street is part of the A40 in London but you won't notice this because of traffic restrictions.
This street has a length of approximately 1.9km and goes from Tottenham Court Road to Marble Arch via Oxford Circus.
Oxford Street is famous for the huge amount of shops, but also for the diversity of the different shops. There are modern clothing boutiques, but also exclusive designer brands. I'm sure there is something for everyone because there is such an enormous diversity. Visiting Oxford Street is free, but don't forget your wallet if you are planning to go shopping…
Around Christmas time, it's nicely decorated with Christmas lights. If you are in London around that time, make sure to visit Oxford Street to buy some of your Christmas presents.
Walkie Talkie
Tube station: Monument Underground Station
The 'Walkie Talkie' or 20 Fenchurch Street is an iconic building that is part of the famous London skyline. Colloquially, this building is called the Walkie Talkie because of its remarkable shape. The official name is 20 Fenchurch Street because that is the official address.
This remarkable building has 38 floors and is around 160m high. It's an office building and is nice to look at but the real reason it's on this list is the magnificent view you have on the top floors. Floors 36, 37 and 38 are a public viewpoint where everyone can enjoy the London skyline.
This is the view you have when you visit 'Sky Garden' on the top floors of the Walkie Talkie.
Above all the offices in the building, you have a bar, restaurants and Sky Garden with its fantastic view of the London skyline. The best of all? You can visit Sky Garden for free! You need to register in advance, but it's completely free until 6 pm. Once you booked a slot, you can enjoy the view for 90 minutes.
More information: https://skygarden.london/
Camden Town
Tube station: Camden Town
Camden Town is a more bohemian part of town where a lot is happening. There are many smaller shops and cosy streets, which make it quite different from other locations on this list. Each week, around 250 000 people visit these shops and streets. It's a pretty nice experience, so I definitely recommend visitng Camden Town, especially when the weather is nice. This is when the streets are full of small stalls and everyone seems relaxed and having fun.
You can try many different foods from all over the world at the local food market. Camden Town is also a hotspot for music and fashion. Amy Winehouse lived in Camden and after she died, they put up a statue to honour her.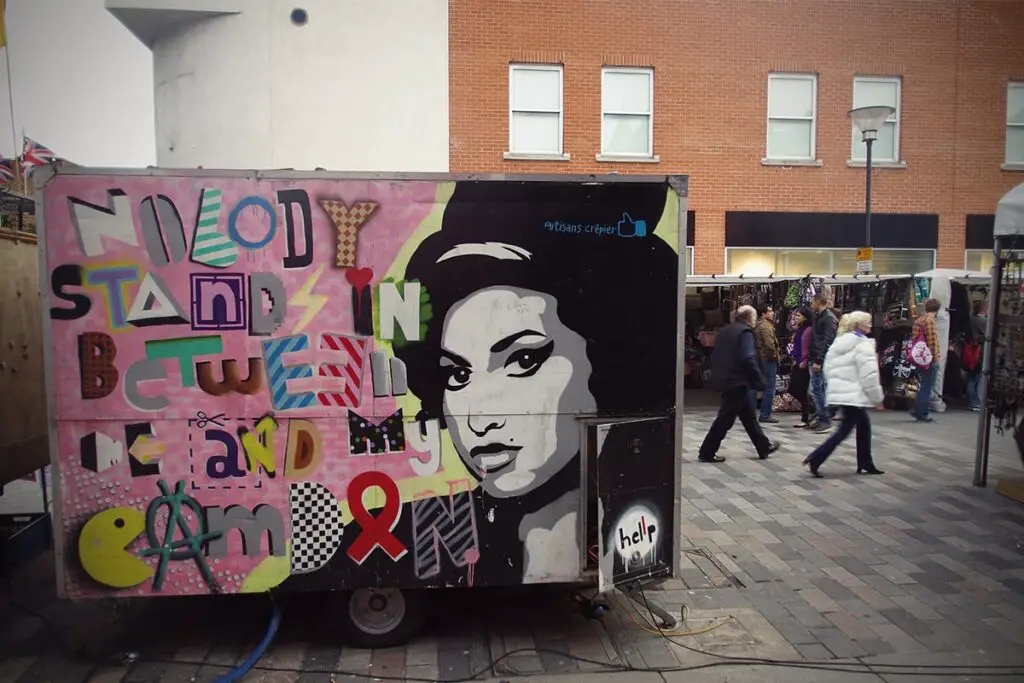 Amy Winehouse is still popular in Camden Town.
If you want to do more than just visiting shops and walking around, you can also take a boat tour on the Regents Canal. This tour takes around 45 minutes. If you don't like water, you can also visit the Jewish museum.
Leicester Square
Tube station: Leicester Square
Leicester Square (pronounced as 'Lester' Square) is a famous square in London that is only accessible for pedestrians. It has a good location and you can easily reach it from all directions so it's a popular meeting place. You can also reach many other locations in London when you start from here.
It's located between Piccadilly Circus, Chinatown, Covent Garden and Trafalgar Square.
Leicester Square is a vibrant place in London because there are many different activities and you can do a lot of different things. For example, the movie theatre with the biggest screen and the most seats in one room is located on this square. There are also some theatres nearby.
You also have the Lego Store, M&M's store here and there are numerous options to have lunch or dinner. In the evening there are also street artists who perform different acts to earn some money. This is an amazing place to visit, especially on a hot summer day or evening and it's one of my favourite locations in London.
Covent Garden
Tube station: Covent Garden
Covent Garden is another popular place in London. It's very close to Leicester Square and is easy to reach from all directions.
This is another car-free zone where there is a lot of activity going on. You have many different shops such as book stores, small stalls, clothing shops and even a massive Apple store.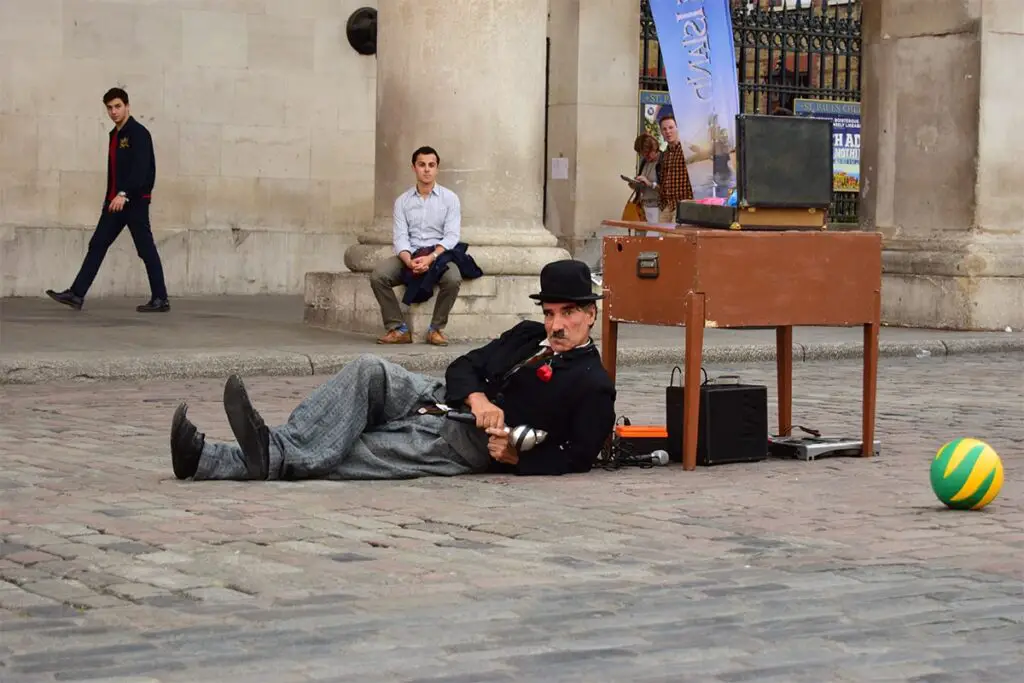 Here you can see a local street artist at work at Covent Garden.
If you are up for something unusual, you can go and watch an opera in the Royal Opera House, which is very close.
Hyde Park
Tube station: Hyde Park Corner
Hyde Park is the biggest park in London and one of the biggest city parks in the world with its 142 hectares. It's close to Buckingham Palace and is right next to the Royal Albert Hall.
Whenever you're walking in this park, you tend to forget you're in the capital. It's nice and quiet and you have a big pond, several monuments, two restaurants, a big playground and even some tennis courts. A lot of people also choose to run some miles here and sometimes, you can even go ice skating in winter. There is something to do for everyone in Hyde Park.
On Sundays, you can visit Speaker's Corner. This is a meeting place where people can say what they want about different topics. It's a place to share your opinion on different subjects. There are also a lot of events in the park and many people enjoy the sun here during the summer months.
More information: https://www.royalparks.org.uk/parks/hyde-park